This thread will be aimed at giving all of our bedrock players a one-stop-shop for all the information they may need about playing on The Cavern!
As we get more information, we will keep this thread up to date!
In order to vote for the server using bedrock, you will have to vote using the following name format: "*" + BedrockUsername. For example "*ThatRandoJustin" for the bedrock username "ThatRandoJustin".

Donating on bedrock is currently not available, however, we are working to get it solved quickly.
​
NON-PLATFORM SPECIFIC ISSUES​
Currently, the server resource pack is not on bedrock, as bedrock does not support custom item models. Therefore, there will be instances of random items being held in players' hands, and on their heads.
There is also a bug with nametags. Either they will show double as in the screenshot, or just be white. We hope to have this solved soon.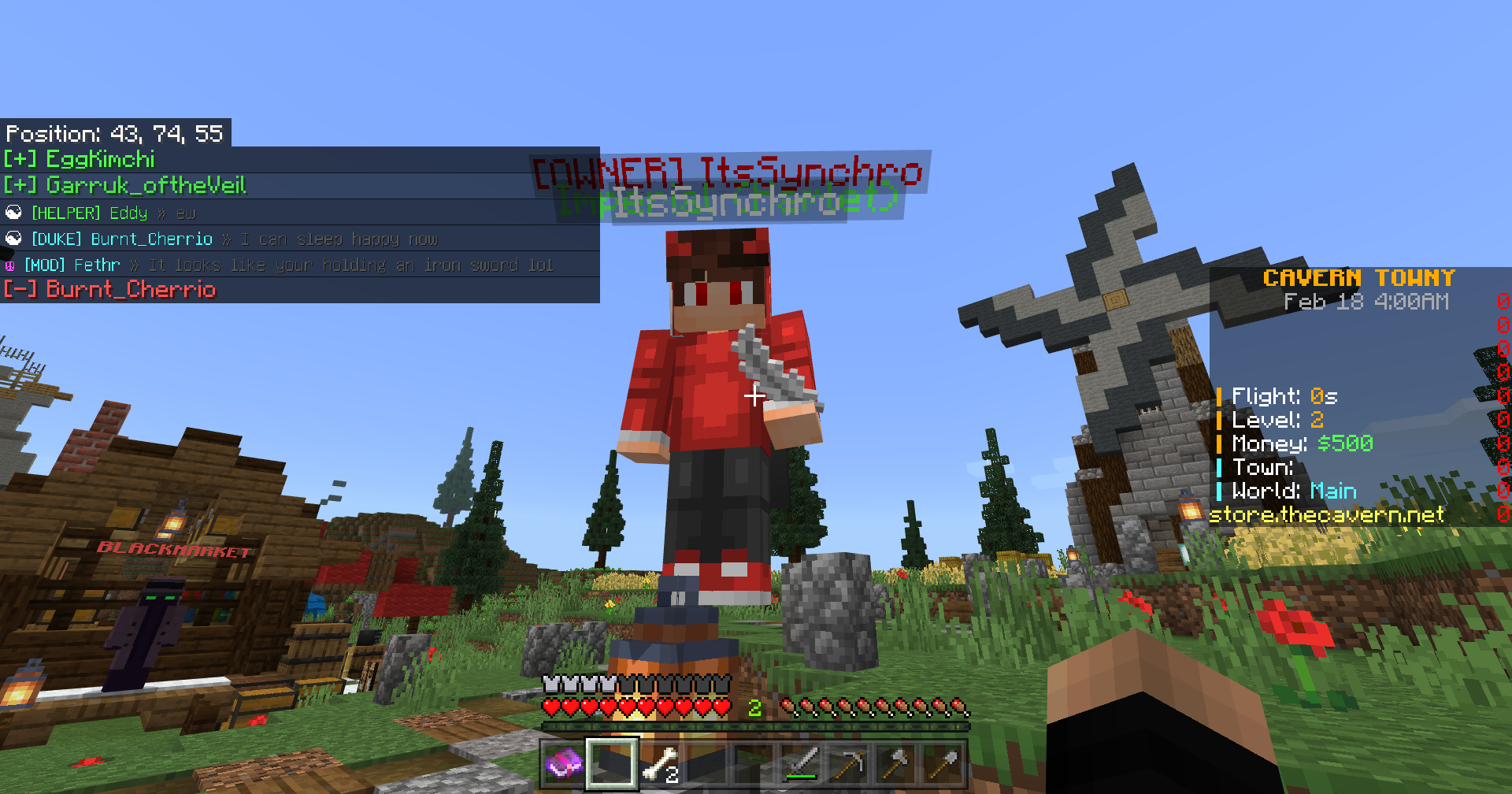 Slimefun items will

NOT

display correctly in your inventory. You may run into what we like to call "The Steve Machine". This is just a visual glitch, and typically will eventually render the slimefun heads on the ground.



For anything that requires you to click in chat, you will have to TYPE THE CORRESPONDING COMMAND.
Anything inside a GUI that asks the player to RIGHT CLICK will not work. We are trying to find a patch now.
If you send an empty message to chat, the server will immediately disconnect you.
​
MOBILE SPECIFIC ISSUES​
In the hub, you have to HOLD + TAP on the ground to use the server compass.

You are unable to climb vines/ladders.

Certain movement patterns tend to set off the anticheat. Such as:

Fast swimming, and swimming while above water
Running on tilled farmland.
Running & jumping in a corner.
​
CONSOLE SPECIFIC ISSUES​
Connecting to the server:

Follow any of the following guides!

Waiting for further testing to put more issues.
​
WINDOWS VERSION SPECIFIC ISSUES​